Discover an extraordinary BBQ experience together at AHL
In a world of indistinguishable options for the outdoor grilling and camping scene, the AHL stands out as a majestic mountain like no other. If you're looking for an extraordinary outdoor grilling experience with a difference, look no further than here. More than just a manufacturer, AHL is a craftsman of unique corten steel grills that not only take your gatherings to new levels of culinary pleasure, but also add an extra touch of unparalleled aesthetic appeal.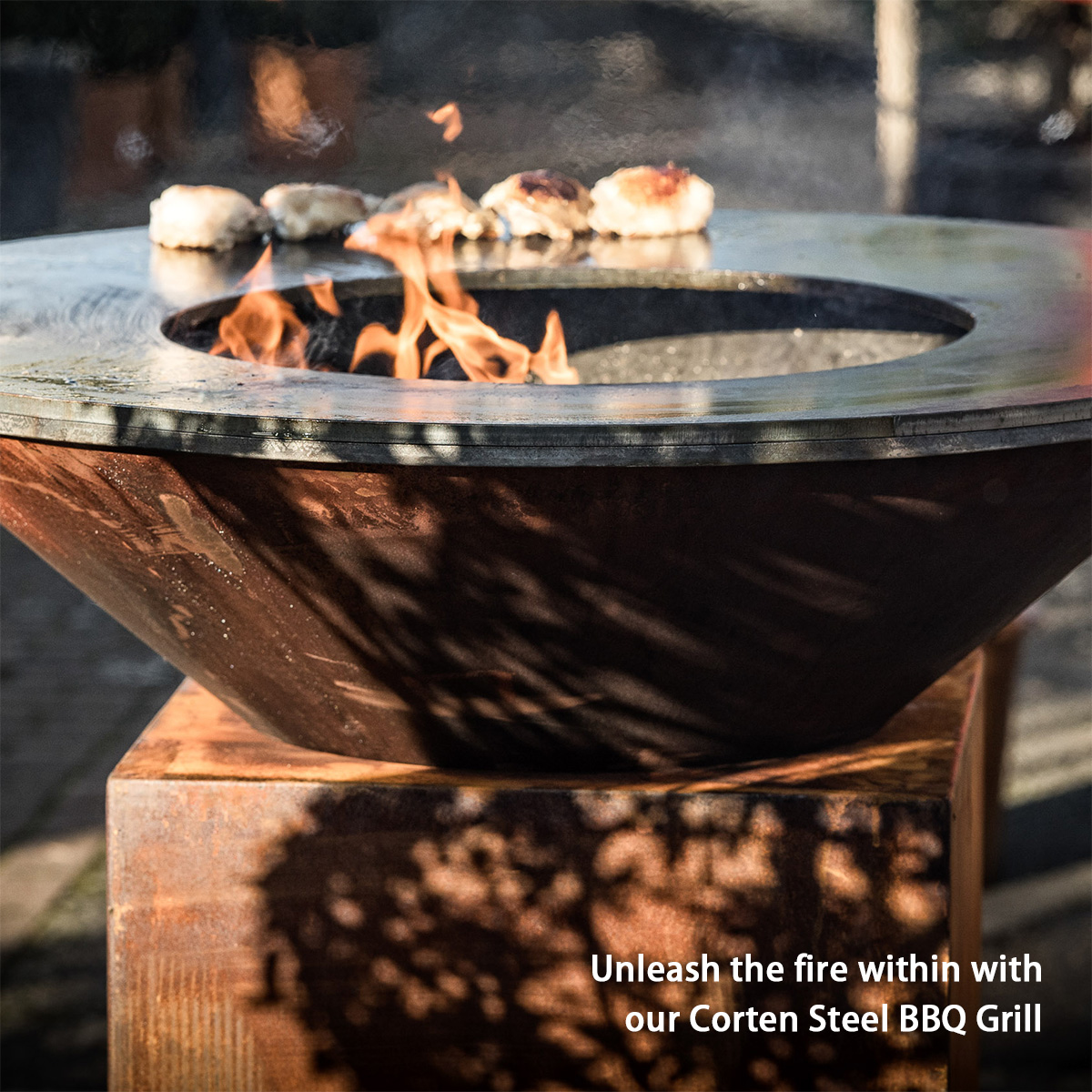 What does AHL offer? Corten Steel Grill
Visualize this scenario: On a picturesque summer evening, the sun is slowly sinking below the horizon, casting a warm, inviting glow on your outdoor tent. Now, imagine an attractive corten steel grill by AHL that combines rustic elegance with modern sophistication. Our best-selling corten steel grills have captured the hearts and imaginations of grilling and outdoor camping enthusiasts worldwide, making AHL a paragon of excellence in its field.
Standing Out Amid the Ordinary:
At AHL, we know that the excitement of outdoor grilling and the camaraderie of camping deserve the extra uniqueness. Our corten grills embody this uniqueness, transcending the ordinary to become precious focal points, turning every event into an unforgettable experience. It's not just the end product that sets us apart, it's the journey that goes into making each grill, bringing together craftsmanship, innovation and a deep appreciation for the art of outdoor cooking.
Imagine the transformation of raw, untreated corten steel into individual masterpieces in the hands of our skilled craftsmen. Every curve, detail and finish has been designed to resonate with your senses and expand your outdoor space. Our corten steel BBQ are not just cooking tools, they're also pieces of art that spark conversation and elevate outdoor gatherings.
Unveiling the Essence of Corten Grills:
The true definition of AHL corten steel grills is the unique aesthetic they bring to your outdoor setting. Known for its weather-resistant properties, weathering steel evolves over time and with the seasons, developing an attractive patina. This natural transformation not only adds uniqueness to your grill, but also increases its vivid connection with the natural surroundings, making it a tangible expression of the passage of time and the beauty of nature itself.
Corten steel's vintage earth tones and intricate textures allow your grill to complement its natural surroundings. Like the wrinkles on the face of an aging elder, its surface patina will make your corten steel grill an integral part of your outdoor landscape, with each patina telling a story and bringing an unrivaled sense of authenticity to your outdoor space.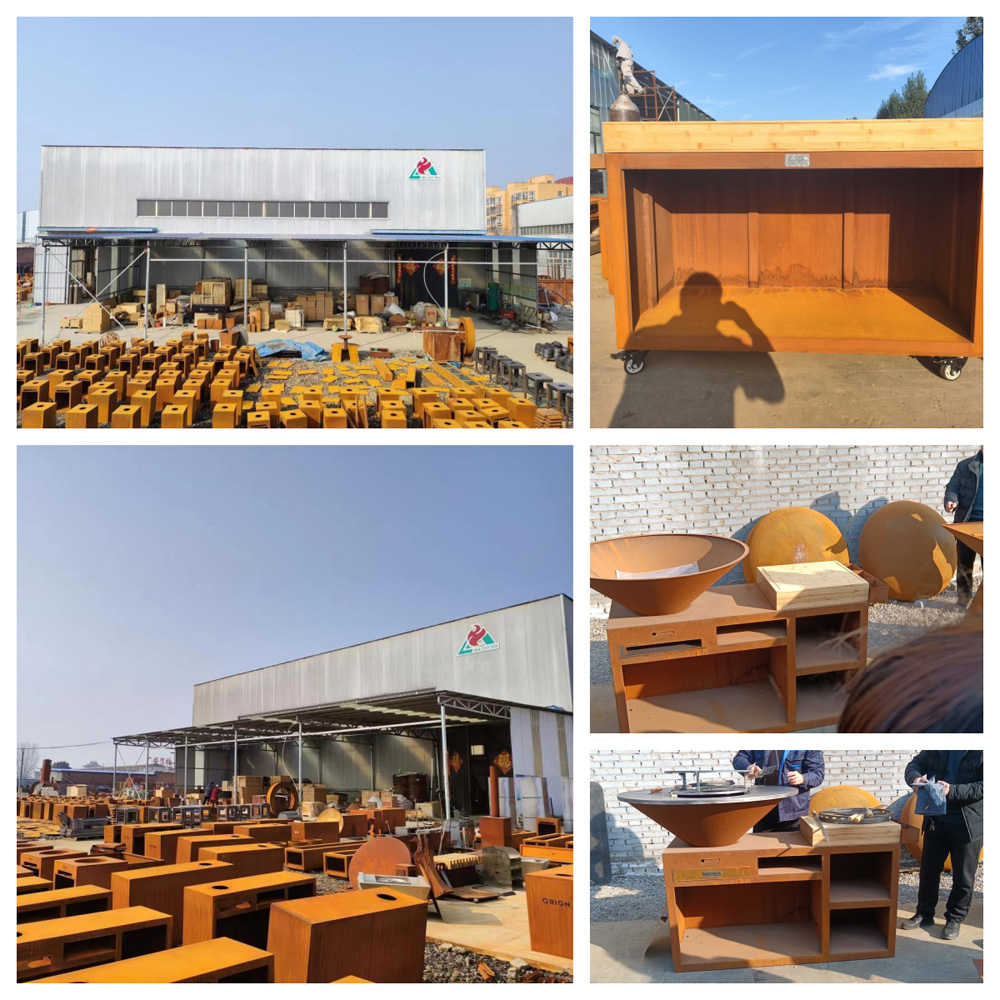 Function and Longevity:
As important as aesthetics are, function is just as important. Our corten steel grating not only has a unique look, but it's also extremely durable. The outstanding corrosion resistance of weather-resistant steel ensures that your grill will remain stable even in changing weather conditions. This sturdiness ensures years of unique grilling pleasure and eliminates concerns about quality or safety. That's why AHL's corten steel grills are a long-lasting companion for your outdoor camping trips.
Create an Indelible Cooking Experience:
Imagine the tantalizing sizzle of a steak, the natural aroma of charred vegetables, and the laughter of your companions around the steel grill. It's not just about cooking - it's about making memories, bonding and enjoying the outdoors. With an AHL steel grill taking center stage, every barbecue becomes an unforgettable memory and an everlasting bond between you and your friends and family.
Sustainability and More:
At AHL, our grills go beyond aesthetics and function in the traditional sense - sustainability. The extremely long life and natural weathering properties of corten steel fit perfectly with our ethos of responsible manufacturing and eco-consciousness. We don't just make grills, as well as contribute to a greener future by choosing materials and methods that resonate with environmental awareness. Choosing AHL corten steel grill is not only a choice of quality, but also a sustainable choice that ensures you enjoy the great outdoors while living in harmony with the planet.
So why settle for mediocrity when you have the great possibility of owning a grill like no other? Step into the realm of the AHL Corten Steel Grill and begin a journey that will enrich your outdoor lifestyle. It's time to transform your barbecuing and camping activities into extraordinary experiences that will impress all those who gather around your corten grill.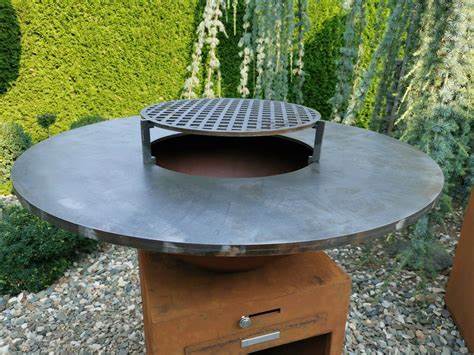 FAQ
1. Are corten steel grills prone to staining or discoloration?
Yes, staining or discoloration may occur on corten steel grills when the initial rust layer has not fully stabilized, and some iron-rich runoff may contaminate nearby surfaces, causing discoloration or staining. If you want to avoid this, just maintain it carefully and clean it up carefully, don't worry too much because this initial staining is just a temporary situation of the weathering process. As the years of use deepen, the rust layer will be fully formed and stabilized, the risk of staining or discoloration will be reduced, and the color of the surface of the corten steel bbq grill will become consistent and even. But if you're inclined toward the colorful colors of natural discoloration, then let it run wild and you'll get an unparalleled corten steel grill.
2. What if you can't install our corten steel grill?
The installation process of the AHL corten grill is very simple and we will provide you with an installation manual and a video, including very detailed installation steps. But if you are still having trouble installing your grill, please feel free to contact our after sales team, they will be more than happy to help you.