Corten Steel Sheet
What is CORTEN steel plate?
Corten steel, also known as weathering steel or atmospheric corrosion resistant steel, often referred to by the trademark COR-TEN® steel (sometimes written as Corten steel). The name COR-TEN® refers to the two distinguishing properties of this type of steel: CORrosion resistance and TENsile strength.
Corten steel plate or sheet, is a type of alloy steel plate. When uncoated exposed to the weather, Corten steel plates would rust and the rust forms a protective coating on the external surface which slows the rate of future corrosion, thus to prevent the steel material from acidic environments. The oxidation process of corten steel sheets is accelerating through subsequent exposure to dry and wet periods and also through sandblasting. As a result, corten steel plate has increased resistance to atmospheric corrosion when compared to other steels.
so, it is commonly used in outdoor applications or environments where normal steel would be inclined to rust.
Advantages of ANHUILONG Corten Steel Sheet
AHL Corten steel has 4~8 times atmospheric corrosion resistance ability higher than ordinary steel.
AHL Corten steel plate can be welded using either manual, gas-shield or submerged arc welding method.
Initial and Whole-life Cost Benefits
Cost savings from the elimination of any protective painting may much higher than the additional material costs. Meanwhile the minimal maintenance requirements of corten steel structures greatly reduce not only the direct costs of maintenance operations but also other indirect costs. The cost of weathering steel has been shown to be at least 5% lower than conventional painted steel alternatives in bridges using a HA Type 2 paint system.
The appearance of corten steel would always change with time, and create unique surface according to the surrounding environment, which makes the corten steel building attractive and charming.
Speed up the Construction
The overall construction time would be reduced as both shop and painting operations are eliminated.
Corten steel avoid the volatile organic compounds from painting and the disposal of blast-cleaning debris from maintenance work in the future.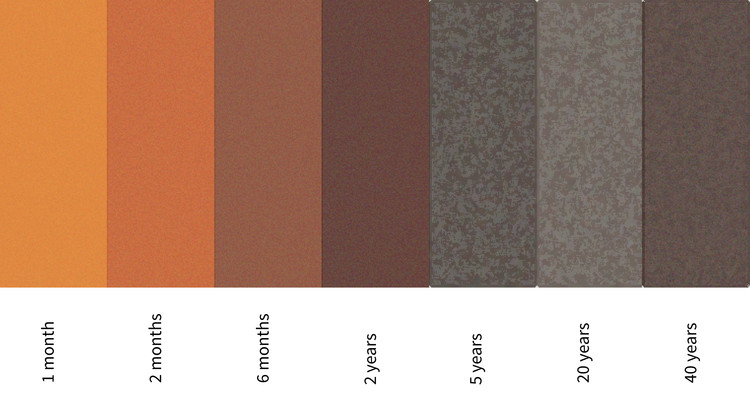 Applications of AHL Corten Steel Plate
Generally, due to the atmospheric corrosion resistance, excellent strength, durability and aesthetically-appealing appearance of corten steel plate, it is used wider and wider in varies of field.
Here are some common applications of Corten steel sheets:
Corten Steel Retaining Walls: Corten steel sheets are excellent for building retaining walls in gardens or landscapes. They provide stability, are resistant to corrosion, and their natural appearance complements outdoor surroundings.
Corten Steel Planter Boxes: Corten steel sheets are often used to make planter boxes and raised garden beds. Their longevity and distinctive look make them a popular choice for garden enthusiasts and landscapers.
Corten Steel Fencing: Corten steel sheets can be fashioned into attractive and sturdy fencing solutions for residential and commercial properties. The weathered appearance adds character to the fence while maintaining durability.
Garden Edging: Corten steel sheets are used for garden edging, defining the borders of flower beds, pathways, and lawns. They create a distinct, weathered frame for landscaping elements.
Outdoor Fire Pits: Corten steel's heat-resistant properties make it an ideal material for crafting fire pits. The weathered patina that develops over time enhances the fire pit's aesthetics.
Artistic and Architectural Screening: Corten steel sheets can be perforated or cut into intricate patterns and used as decorative screens in architectural and artistic applications. They create captivating visual effects and can be used for privacy screening.
Sculptures and Art Installations: Many artists and sculptors prefer Corten steel sheets for outdoor sculptures due to their ability to develop a natural patina over time. The material's weathered look adds depth and intrigue to artistic creations.
Corten Architectural Cladding: Corten steel sheets are widely used as architectural cladding for buildings, both residential and commercial. They provide a unique and rustic appearance while offering protection against the elements. Corten cladding can cover entire facades or be used as accent features.
Corten Roofing: Corten steel roofing is popular in modern and industrial architectural designs. It offers durability, weather resistance, and a striking appearance. Corten roofing can be installed in the form of panels or shingles, adding character to structures.
Outdoor Furniture: Corten steel is used in the manufacture of outdoor furniture, such as tables, benches, and seating arrangements. Its ability to withstand outdoor conditions makes it a durable choice for outdoor settings.
Scenic Bridges and Walkways: Corten steel sheets are used to construct bridges and walkways in parks, gardens, and natural reserves. Their resilience against harsh weather ensures the longevity of these structures.
Shipping Containers: Some shipping containers are made from Corten steel due to its corrosion-resistant properties. This ensures the containers remain structurally sound and durable during transport.
Industrial Applications: Corten steel is employed in various industrial applications, including storage tanks, silos, and conveyor systems, where its robustness and resistance to corrosion are essential.
Automotive Components: Corten steel is used in manufacturing automotive components like truck beds and trailers due to its strength and ability to withstand rough conditions.
Bridge Construction: Corten steel is often used in bridge construction for its durability and low-maintenance characteristics. It can withstand exposure to harsh environmental conditions and reduce the need for ongoing maintenance.
Corten steel sheets are prized not only for their functional attributes but also for their unique aesthetic appeal. Whether in architecture, art, or landscaping, Corten steel's distinctive weathered look adds character and a timeless quality to various applications.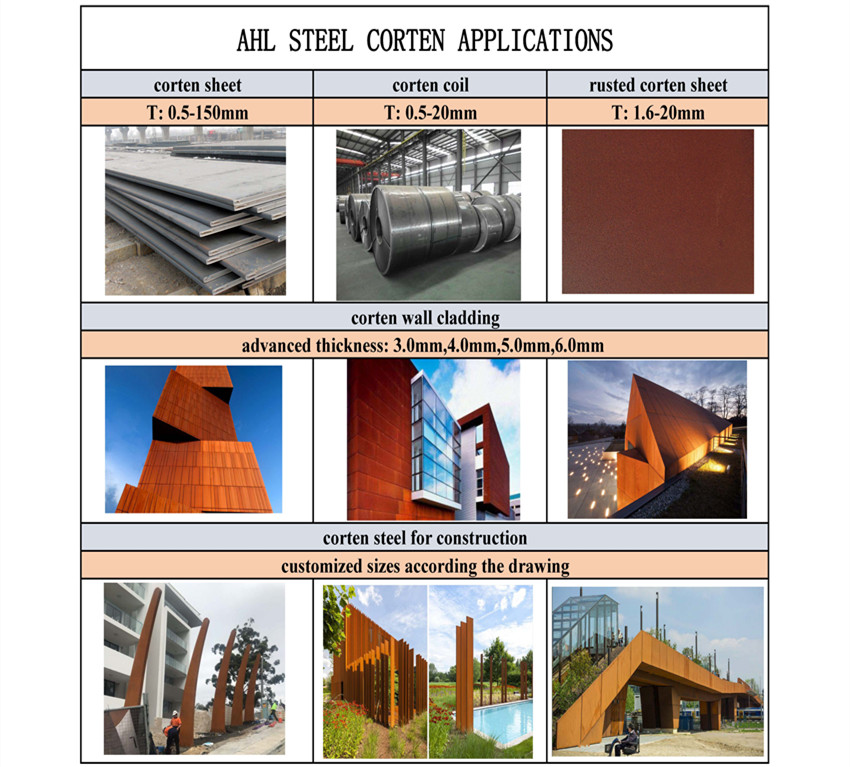 Other landscape and garden applications please check our Home & Garden catalogue
The Best COR-TEN Steel Supplier
If you are looking to purchase CORTEN steel plates or sheets, our company is your best choice.
We have the most comprehensive and diverse corten steel products in stock as well as world leading manufacture process lines which allows customized production as your requirement.
With more than 20 years devoting to corten steel production, we are in expert position in corten steel industries for supreme quality and competitive price.
AHL STEEL also has the leading pre-rusted treatment technology.
No matter what kind of corten steel are you looking for, we are happy and welcome to receive your inquiry, and we will promise to provide our sincerely service.
Application
Construction
Thickness
8-150mm
Material
Corten Steel
Grade
Corten Steel Plate, A558, S355JOW, S355JOWP, S355J2W, Q235NH,
Q295NH, Q355NH, Q460NH,Q550NH, Q295GNH, Q355GNH
Shape
Plate
Surface Treatment
MILLS FINISIH, PRE-RUSTED TREATMENT
| | |
| --- | --- |
| Application | Facade, planter, screen , fence, edging, fire pit, tree grate |
| Thickness | 0.5-20 mm |
| Material | Corten Steel |
| Grade | CORTEN A & B, A242, SPA-H, A606, S355JOW, S355JOWP, S355J2W |
| Shape | Coil & sheet |
| Surface Treatment | MILLS FINISIH, PRE-RUSTED TREATMENT |
Corten steel plates thickness is huge you can choose the one which is appropriate for your industries that looks better in-app factors. Talking about the length then it also comes in many starting from 2m to 12m etc. as a buyer you have lots of choices.
Comparison of Different Weathering Steel Grades
Material
Chemical Composition,%
C
Si
Mn
P
S
Cu
Cr
Ni
V
Q235NH
≤ 0.13
0.10-0.40
0.20-0.60
≤ 0.13
≤ 0.13
0.25-0.55
0.40-0.80
≤ 0.65
/
Q295NH
≤0.15
0.10-0.50
0.60-1.00
≤ 0.13
≤ 0.13
0.25-0.55
0.40-0.80
≤ 0.65
/
Q295GNH
≤ 0.12
0.10-0.40
0.20-0.50
≤ 0.13
≤ 0.13
0.25-0.55
0.40-0.80
0.25-0.50
/
Q355NH
≤ 0.16
≤ 0.50
0.50-1.50
≤ 0.13
≤ 0.13
0.25-0.55
0.40-0.80
≤ 0.65
/
Q355GNH
≤ 0.12
0.20-0.75
≤ 1.00
≤ 0.13
≤ 0.13
0.25-0.55
0.40-0.80
≤ 0.65
/
09CuPCrNi-A
≤ 0.12
0.20-0.75
0.20-0.50
0.060-0.12
≤ 0.020
0.25-0.50
0.30-1.25
0.12-0.65
/
09CuPCrNi-B
≤ 0.12
0.10-0.40
0.20-0.50
0.060-0.12
≤ 0.020
0.25-0.50
0.30-0.65
0.25-0.50
/
05CuPCrNi
≤ 0.090
0.25-0.50
0.20-0.50
0.060-0.12
≤ 0.020
0.25-0.50
0.30-1.25
0.12-0.65
/
B480GNQR
≤ 0.12
0.25-0.75
0.20-0.50
0.070-0.15
≤ 0.030
0.25-0.55
0.30-1.25
≤ 0.65
/
Q450NQR1
≤ 0.12
≤ 0.75
≤ 1.50
≤ 0.025
≤ 0.020
0.20-0.55
0.30-1.25
≤ 0.65
/
SPA-H
0.05-0.12
0.25-0.75
0.20-0.60
0.070-0.12
≤ 0.025
0.25-0.50
0.30-1.25
≤ 0.65
/
Cor-ten A
0.15
0.25-0.75
0.20-0.50
0.07-0.15
0.03
0.25-0.55
0.50-1.25
0.65
/
Cor-ten B
0.19
0.30-0.50
0.80-1.25
0.035
0.03
0.25-0.40
0.40-0.65
0.4
0.02-0.10
S355JOW
0.16
0.5
0.50-1.50
0.035
0.035
0.25-0.55
0.4-0.8
/
/
S355JOWP
0.12
0.75
1.00
0.06-0.15
0.035
0.25-0.55
0.30-1.25
/
/
S355J2W
0.16
0.5
0.50-1.50
0.03
0.03
0.25-0.55
0.40-0.80
/
/
Material
Mechanical properties
Yield Strength N/mm² min
Tensile Stremgth N/mm²
Elongation % min
≤ 16
16-40
40-60
>60
≤ 16
16-40
40-60
>60
Q235NH
235
225
215
215
360-510
25
25
24
23
Q295NH
295
285
275
255
430-560
24
24
 
22
Q295GNH
295
345
/
/
430-560
24
24
/23
/
Q355NH
355
345
335
325
490-630
22
22
21
20
Q355GNH
355
345
/
/
490-630
22
22
/
/
09CuPCrNi-A
≥345
≥480
≥24
09CuPCrNi-B
≥295
≥431
≥24
05CuPCrNi
≥310
≥440
≥26
B480GNQR
≥350
≥480
≥22
Q450NQR1
≥450
≥550
≤ 6: ≥22
>6-14: ≥20
≥14: ≥19
SPA-H
≥355
490-610
≤ 6: ≥22
>6-12: ≥ 15
Cor-ten A
≥345
≥485
≥20
Cor-ten B
≥345
≥485
≥19
S355JOW
<16: ≥355
>16-80: ≥ 345
>80-100: ≥ 315
>100-150: ≥ 295
>3: 510-680 >3-100: 470-630 >100-150: 450-600
S355JOWP
<16: ≥355
>16-150: ≥ 345
>3: 510-680 >3-100: 470-630
S355J2W
<16: ≥355
>16-80: ≥ 345
>80-100: ≥ 315
>100-150: ≥ 295
>3: 510-680 >3-100: 470-630 >100-150: 450-600
AHL COR-TEN Steel Sheet Production Process: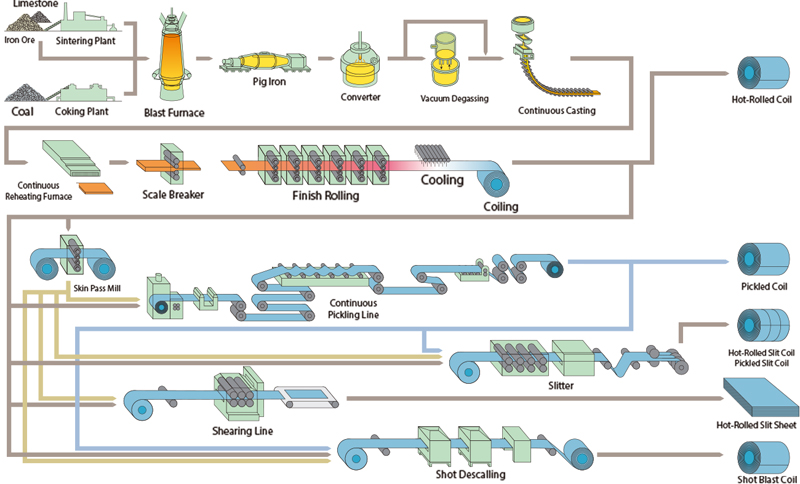 Enable Ginger
Cannot connect to Ginger Check your internet connection
or reload the browser
Disable in this text field
Rephrase
Rephrase current sentence
Edit in Ginger
×
Enable Ginger
Cannot connect to Ginger Check your internet connection
or reload the browser
Disable in this text field
Rephrase
Rephrase current sentence
Edit in Ginger
×
Enable Ginger
Cannot connect to Ginger Check your internet connection
or reload the browser
Disable in this text field
Rephrase
Rephrase current sentence
Edit in Ginger
×
Enable Ginger
Cannot connect to Ginger Check your internet connection
or reload the browser
Disable in this text field
Rephrase
Rephrase current sentence
Edit in Ginger
×
Download