Where to Buy Corten Steel for Landscaping
What is corten steel
Corten steel is a material that can be widely used in landscaping. Whether in city parks or private courtyards, it can be seen everywhere. The advantage of this material lies in its excellent performance and beautiful appearance, which can not only withstand various harsh weather conditions, but also obtain beautiful appearance effects. Therefore, many landscape architects, architects, garden engineers, etc. have widely used weathering steel in various places.
With the improvement of people's quality of life, people's requirements for the aesthetics of their environment are also getting higher and higher. In this case, the characteristics of corten steel can meet people's needs. It can not only withstand the attack of bad weather, but also can have different innovations in design, such as edge, flower pot, gazebo and so on. The clean and stylish appearance of corten steel can leave a deep impression on people, allowing people to experience the joy and beauty brought by vision in their lives.
In the current construction industry, corten steel has not only become an important material for landscape design, but also widely used in the field of architectural decoration. Through innovative design, corten steel can create a beautiful scene that is eye-catching.
Corten steel edging from our company is one of the must-have products for decorative gardens as it creates an orderly and tidy garden and yard. AHL's corten steel edging not only has many features but also is visually appealing, making it ideal for any landscaping project.
Corten steel edging can be used in a variety of ways such as creating garden beds, enclosing patio sloped areas, or even creating borders around gardens. They are also a solution to prevent soil erosion by blocking the soil to prevent it from being washed away. This helps the garden maintain its shape and avoid unsightly gullies.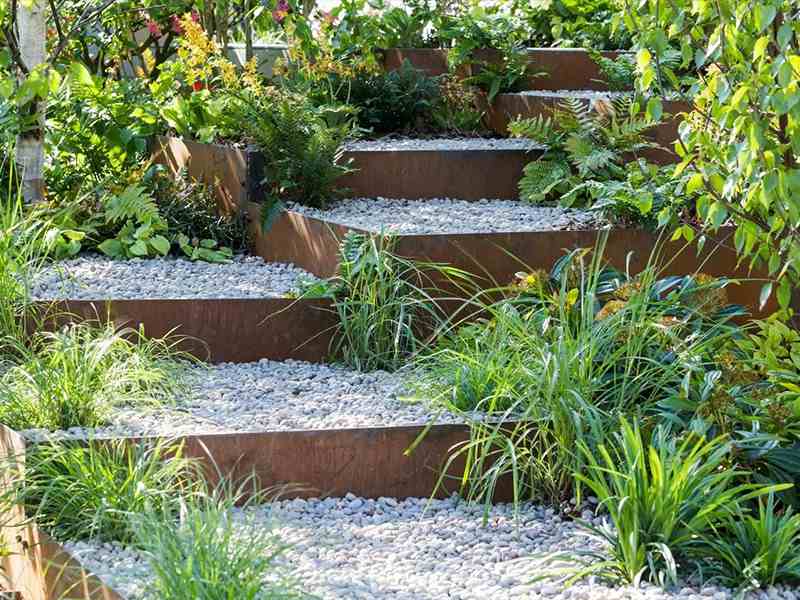 Corten steel edging is a new type of material, which has obvious advantages over traditional earth retaining materials. The following are five characteristics of corten steel edging.
First of all, it has good weather resistance. Traditional edging will have problems such as rust and corrosion in severe weather such as storms and high temperatures. The corten steel edging adopts corten steel plate. After unique processing, it can maintain long-term stability and durability in the external environment changes, and will not be damaged by rust or falling off. It is very suitable for long-term use in outdoor environments.
Second, the strength is high. Corten steel edging has high strength and can effectively resist the damage of various geological environments, so as to play a better protective role. At the same time, corten steel edging can also adapt to different environments and provide personalized customized services under different needs to meet the different needs of customers.
Third, it is beautiful and generous. Corten steel edging has different shapes, sizes, and colors, which can bring more choices in style and appearance, and can meet the requirements of modern urban construction, as well as the requirements of lawns, temples, markets and other places in the city.
Our corten steel edging products come in a range of beautiful designs and colours, making sure they match your home's architecture and style. After using our corten steel edging, you can get a garden that looks beautiful and tidy all year round. Additionally, corten steel edging is durable and requires minimal maintenance, making them an excellent choice for the vast majority of landscaping projects.
Fourth, it is easy to install. Traditional edging often requires cumbersome processes such as on-site welding and cutting. The corten steel edging has been processed, and the installation can be easily completed, which can not only save the construction period, but also better protect the safety of the construction personnel. Perhaps the biggest selling point of our corten steel edging is its ease of installation, even someone with no basic building knowledge can easily install our corten steel edging. This saves our customers time and money, and with less hassle. Customers love the convenience and simplicity of our products.
Finally, environmental protection and energy saving. Due to its unique design, our corten steel edging is very strong and has a longer service life than ordinary steel, thus reducing manufacturing costs and actual operating costs, and strongly promoting the development of environmental protection and energy saving, contributing to environmental protection and sustainable development has contributed.
In conclusion, our corten steel edgings are essential for garden decoration as they create structured outdoor environments, offering practical and visually appealing solutions. Incorporate our corten steel edging into your garden or patio to create a beautiful and functional outdoor space that will delight you for years to come.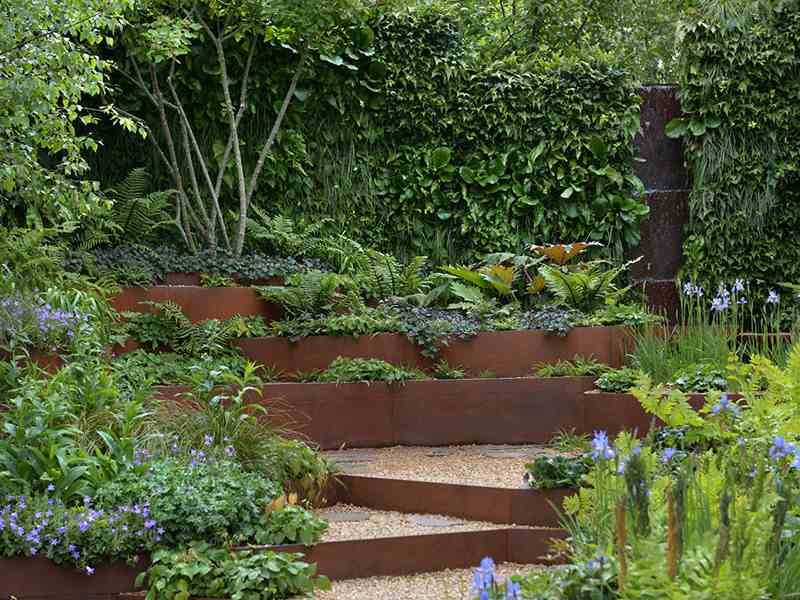 Where to buy corten steel for landscaping
You can buy corten steel edging from several sources. Here are some common buying channels:
Professional corten steel edging manufacturers: Like some professional corten steel edging manufacturers, such as AHL company, etc., they have their own production factories and sales teams, and can provide you with high-quality corten steel edging products and services.
Building materials markets or shopping malls: In some large building materials markets or shopping malls, you can find multiple brands of corten steel edging suppliers, and you can choose a suitable edging according to your needs.
Online shopping mall: In some large online shopping malls, such as Amazon, eBay, AliExpress, etc., you can find multiple brands of edging merchants, and you can easily browse and compare products and prices of different brands.
As a professional manufacturer of corten steel edging, AHL company has its own production plant and design team, which can provide customers with high-quality and personalized customized services. We can not only customize according to customers' specific requirements and preferences, but also provide customers with professional advice and technical support to ensure customers get the best solution. Our corten steel edging products have been sold to many countries and regions, such as Europe, Australia, North America, etc., and are well received and praised by customers. Our customers include architects, landscape architects, landscapers, real estate developers, contractors, etc., and they have all given high praise and praise to our product quality and service.
Corten steel edging, a material used to fix soil and prevent landslides on slopes, is an integral part of construction work, so picking the right corten steel edgings is crucial. The following will introduce how to choose corten steel edgings from four aspects.
1. Material
First you need to pay attention to the material of the edging. Corten steel edging is made using a special technique, and the thickness is generally between 1.5 -- 5mm. Corten steel edging has the characteristics of oxidation resistance, corrosion resistance, weathering resistance, abrasion resistance, strong toughness, and has good weldability and processability. Therefore, it is necessary to choose steel with good material and stable performance.
2. Specifications
The second is the specification of corten steel edging. The specifications of corten steel edging should be selected according to your specific needs, and factors such as the height, length, arc and slope of the required corten steel edging should be taken into consideration. In general, the specifications of corten steel edging are different in different situations. Before purchasing, it is necessary to understand its parameters such as load-bearing capacity and thickness in detail, and purchase it under the guidance of professional technicians.
3. Production process
The third point is to ensure the production process of corten steel edging, and choose a regular manufacturer. This can not only ensure the excellent corten steel edging process, but also improve the quality of corten steel edging accordingly. Choosing a regular manufacturer can produce a large number of high-quality and stable quality products, and the after-sales service will be more professional and honest. These are very important considerations.
4. Brand
The last thing is to choose a branded corten steel edging. The brand represents guarantee, so choosing some well-known brands can make you feel more at ease. Not only can the quality of corten steel edging be guaranteed, but relatively speaking, the after-sales service will be more professional, and at the same time, the reliability and safety of the product can be guaranteed.
The corten steel edging produced by AHL is a high-performance material designed for various outdoor environments. The material is made of corten steel, also known as weathering steel, which can resist corrosion, rust and weathering caused by rain, snow, sunlight, salt spray, etc. This gives our corten steel edging exceptional durability and a longer lifespan, ideal for use in harsh environments such as coastal areas or areas with extreme weather conditions.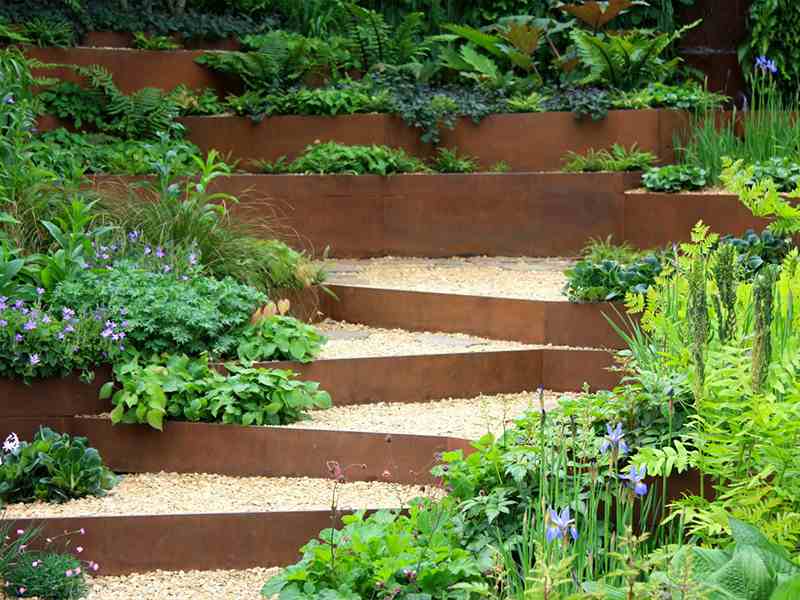 Corten steel edging is suitable for a variety of applications such as road and rail infrastructure, landscaping, flood protection, mining and industrial use. This type of AHL corten steel edging is easy to install, requires less maintenance and has a unique look that blends naturally with its surroundings. The use of corten steel edging not only reduces installation and maintenance costs, but also enhances the aesthetics of the area where it is used, which brings long-term benefits. Corten steel edging produced by AHL company is an innovative solution whose durability, low maintenance requirements and unique look make it a popular choice for a variety of outdoor applications. We believe our corten steel edging is the best in the market and we are committed to providing the highest quality products and services to our customers.
As a professional corten steel edging manufacturer, we always adhere to customer-centric, quality-based, innovation-driven, and continuously improve the quality and level of products and services. We believe that through continuous innovation and hard work, our corten steel edging products will achieve better development and wider application in domestic and foreign markets.