Where to buy best corten steel laser cut metal decorative art screen?
Nowadays, the screens are not just act as a wall to protect your privacy, but play more role on decorating your indoor or outdoor space. At AHL CORTEN, we are specialized in supplying corten steel laser cut decorative art screen of all kinds of patterns.
AHL CORTEN laser cut metal decorative screens can form feature walls or facades which suit for both indoor and outdoor applications. We have large range of specifications, and also be customized by clients' order.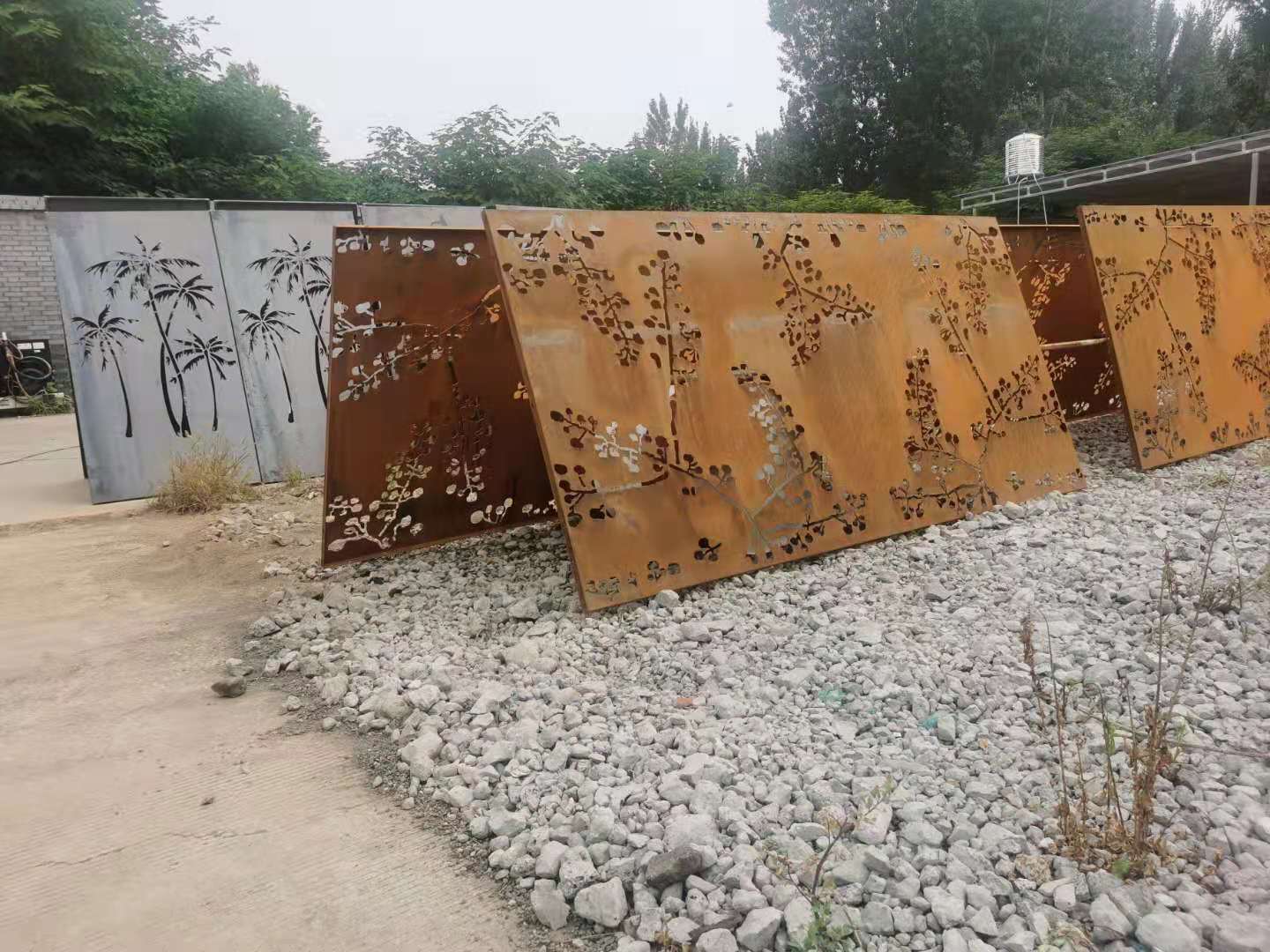 Which material is good?
If you are looking for a long-lasting, low maintenance cost material of screen wall, then choose corten steel may be the best choice right now.
Cor-ten (or corten as it is often called) is made of a series of steel alloys which can develop an oxidized surface that protect the material from further rust. In this way, corten steels have higher resistance to atmosphere weathering compared to other ordinary steels, due to this reason, corten steel art screen can last for many years without rusting through. The natural patina allows the decorative screen wall no maintenance cost, the changing rustic brown appearance is also appealing and won't out of style over time.
Please note that corten steel is a natural product, so every corten steel screen rusts differently, that give your art screen life.
How about laser cut corten metal screens?
Laser cut technology is widely used in producing steel plate with elaborate patterns, it means that you can design your own patterns for decorative corten steel screen wall. What you need to do is offer your CAD or just your general ideas if you don't have a specific pattern, AHL CORTEN has professional design team that can always draw satisfying pattern for you.
Laser cut technology can make every pattern come true in the plain steel plate, which make the metal screen alive with art. With laser cut metal screen, your garden will look more charming, it also reflect the household aesthetic and enthusiasm for life.
How to solve rusted effect?
One problem of corten steel screen is that it needs almost 6 months to finish the rusted effect, rust mark may be left on your wall if it is exposed to the humid weather. Our factory has technology to fix the rust layer to make the surface smooth and no rust stain when raining. You don't need to take half year or longer to get the rusted effect, we can deliver the finished rust screen as you see in the picture. Now our corten metal screens have been sold to all over the world and get highly appreciated.
How to install?
Every corten garden screen panel from AHL CORTEN is very easy to install, only two people are needed to finish the whole installation process.
The panel is produced accurately to fit your space, the clamps have a certain degree of tolerance. Once the baseplate in installing then the post simply slots on top of it. If you don't want to see a post, you can enter the post directly from the front fixed panel, which also reduces the cost because you don't need any clips.
In a word, our company's corten garden screen panels come with posts, base plates, caps and installation instruction, so you don't need to worry about installation. It is easy. And if you want to install the corten screen at the wall, we also offer wall mounting frameworks. To make your wall as an amazing wall art function.
Now few suppliers can do the corten steel surface rust treatment with high quality. Most factories just use the raw materials of corten steel with simple and same laser cut patterns, you have to wait at least 6 months for the weathering process, and you can't control the color which you want either. Many people spend a lot of money but get poor and thin panels.
At AHL CORTEN, we have strict manufacturing steps, experienced engineers and workers, the more important is that we offer corten surface rust treatment and customized pattern design. We ensure that every product is ready to use once it leaves the factory.
Many Australian and American designers and homeowners have commissioned AHL CORTEN to supply feature products into their beautiful projects, both commercial and residential applications. You are highly welcomed to visit our factory and workshop if you are interested, for more information, please contact us via phone or send us email, we will reply within one work day!
Enable Ginger
Cannot connect to Ginger Check your internet connection
or reload the browser
Disable in this text field
Rephrase
Rephrase current sentence
Edit in Ginger
×
Enable Ginger
Cannot connect to Ginger Check your internet connection
or reload the browser
Disable in this text field
Rephrase
Rephrase current sentence
Edit in Ginger
×
Enable Ginger
Cannot connect to Ginger Check your internet connection
or reload the browser
Disable in this text field
Rephrase
Rephrase current sentence
Edit in Ginger
×